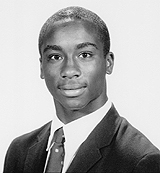 While University of Michigan defenders were slipping and sliding on the wet artificial surface, Notre Dame sophomore Raghib "Rocket" Ismail glided almost effortlessly to the end zone, running so fast the TV cameras could barely keep pace. It was September of 1989, and Ismail had just scored the first of his two kickoff returns for touchdowns, sparking the defending national champion Fighting Irish to a 24-19 victory. The Rocket was already well known, but his All-American collegiate career was impeccably well documented from that point on. So was his decision to join the CFL instead of Al Davis' Los Angeles Raiders after his junior season. When he did finally join the Raiders after two productive years with the Toronto Argonauts, Ismail provided steady offense, but never the dominance many expected. That could change this season.
Signed by the Dallas Cowboys in April, Ismail appears to be playing with a newfound swagger and confidence. On opening day, Ismail burst onto the scene in old Rocket-like fashion when he caught the game-winning, 76-yard touchdown pass against the Washington Redskins. Through five games, Ismail leads the Cowboys with 24 receptions and ranks sixth in the NFC with 450 receiving yards. "Rocket is a playmaker," Cowboys head coach Chan Gailey said. "From the start, I said we'd use all of our people, but I'm searching for more and more ways to use this guy." Gailey's been trying even harder to utilize Ismail's talents since superstar wideout Michael Irvin sustained a serious neck injury against the Philadelphia Eagles on Oct. 10. Not only has Ismail become quarterback Troy Aikman's main target, he's also become a morale-booster in the locker room. "His addition to the club has given us a tremendous advantage," Aikman said of his new weapon. "A quality person, a great guy who not only wants to do well, he also works at being a success. He's not quiet with us, he's quiet with (reporters)."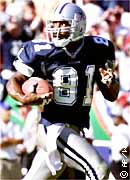 Ismail has made a voluntary attempt to move away from the limelight. He wasn't always comfortable in the public glare. The attention he received at Notre Dame was relentless, demanding and not always positive. And, as a result, Ismail now treats members of the media like defensive backs, using his cunning elusiveness to counter their every move. Ismail's media policy is nothing personal. He simply prefers to use his play on the field to communicate to the world. It's a philosophy that has worked just fine for him lately. The Rocket enjoyed a career year with the Carolina Panthers in 1998 (69 catches for 1,024 yards and eight touchdowns), which convinced the Cowboys that he was the deep threat they've been actively seeking for years. Besides the season opener in which he had eight catches, Ismail has caught more than five passes in only one other game this season. However, his receptions often lead to points on the scoreboard. Ismail had four catches for 74 yards in the 13-10 loss to the New York Giants on Monday night. His first reception of the game, a 24-yarder in the first quarter, set up Richie Cunningham's 38-yard field goal that gave Dallas an early lead. On Dallas' only TD drive of the evening, Ismail contributed with a 16-yard catch that moved the Cowboys inside the Giants' 20-yard line. In Week 4 against the Arizona Cardinals, Ismail had a 63-yard TD reception in the second quarter that gave the Cowboys a commanding lead. He also had catches of 19 and 14 yards, both of which set up scores in a 35-7 victory.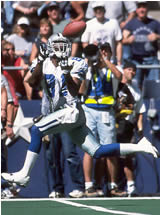 Ismail's career with the Cowboys actually had an inauspicious beginning. He sprained his left shoulder in training camp and played little in the preseason games. He re-aggravated the injury in Week 2 against the Atlanta Falcons. But without Irvin and rookie wide receiver Wane McGarity, who separated his right shoulder against the Giants, the Cowboys desperately need a healthy Ismail in their lineup. His ability to spread defenses also has a significant impact on Emmitt Smith and the running game. "Chan wants to get Rocket the ball," Aikman said. "You'd be foolish not to. We've had guys in the past with his speed, but not in knowing how to set up (a defender), or in running routes." If the Giants game was any indication, Ismail needs another big performance to keep opposing defenses honest. New York routinely stacked the offensive line, holding Smith to only 22 yards on 26 carries. On Sunday, the Cowboys go up against a defense that they already torched for 541 yards this season as the Redskins travel to Texas for a rematch. It could be another opportunity for the Rocket to continue his launch back into the national spotlight, even if it's something he's not fully willing to embrace.