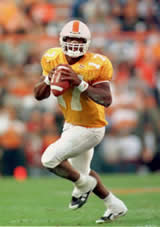 Martin spent part of the 2004 season and all of the 2005 season with the Winnipeg Blue Bombers of the CFL. Martin finished the 2005 season completing 40-of-95 pass attempts for 458 yards, 1 touchdown and 4 interceptions. He decided not to return to the Bombers for the 2006 season.
Previously, Martin spent four seasons in the National Football League. He played on 3 different teams during his NFL tenure: the Pittsburgh Steelers, Philadelphia Eagles (practice squad), and Oakland Raiders.
Martin also spent one season in the NFL Europe league. During the 2002 season, he led the Rhein Fire to a league best 7-3 record. The Fire lost in the World Bowl, falling 20-26 to the Berlin Thunder. Martin finished the season completing 127-of-245 pass attempts for 1,298 yards, seven total touchdowns and eight interceptions.

College career

While a junior at the University of Tennessee in 1998, Martin led the 1998 Tennessee Volunteers football team (a.k.a. Vols) to a 13-0 record and a Fiesta Bowl victory over Florida State University, as the school won its first NCAA Division I-A national football championship since 1951. This was also the second time Tennessee had been considered the consensus national champion, with the other NCAA Consensus National Championship being in 1951. Four other NCAA Division I-A national football championship seasons are recognized by the NCAA (1938, 1940, 1950, and 1967), but are not consensus. Before his final two seasons, Martin was a backup to Peyton Manning.

Also, in the 1998 season, Martin broke the NCAA record for consecutive completions. Against South Carolina Martin completed his first 23 passes. Combined with a completion the previous week against Alabama, Martin's string of 24 completions set the new record.

Martin's role on the national championship team caused a minor controversy on the University of Tennessee campus; some Knoxville African-American leaders said that since Peyton Manning, who did not win a championship, had had a street named after him after leaving the university, not considering the same for Martin would be racism. (Additionally, some student leaders objected to the practice of naming streets after athletes, and suggested that Peyton Manning Pass be renamed Yale Avenue, it's original name.) In response, South Stadium Drive was renamed Tee Martin Drive.

In 1999, Martin led the Vols to their third consecutive BCS Bowl game. The 9-2 Vols went back to the Fiesta Bowl to face Nebraska. The 21-31 loss was the final game of Martin's college career. During Martin's 4 years at Tennessee, the Vols were undefeated against 3 schools from his home state (4-0 v. Alabama, 3-0 v. Auburn, 1-0 v. Alabama-Birmingham)